Alumni
Stone, James L.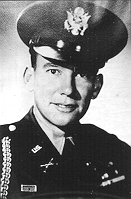 Rank and organization: First Lieutenant, U.S. Army, Company E 8th Cavalry Regiment, 1st Cavalry Division.
Place and date: Near Sokkogae, Korea, 21 and 22 November 1951.
Entered service: Houston, TX.
Born: 27 December 1922, Pine Bluff, Ark.
G.O. No.: 82, 20 October 1953.
Citation: 1st Lt. Stone distinguished himself by conspicuous gallantry and indomitable courage above and beyond the call of duty in action against the enemy. When his platoon, holding a vital outpost position, was attacked by overwhelming Chinese forces, 1st Lt. Stone stood erect and exposed to the terrific enemy fire calmly directed his men in the defense. A defensive flame-thrower failing to function, he personally moved to its location, further exposing himself, and personally repaired the weapon. Throughout a second attack, 1st Lt. Stone; though painfully wounded, personally carried the only remaining light machine gun from place to place in the position in order to bring fire upon the Chinese advancing from 2 directions. Throughout he continued to encourage and direct his depleted platoon in its hopeless defense. Although again wounded, he continued the fight with his carbine, still exposing himself as an example to his men. When this final overwhelming assault swept over the platoon's position his voice could still be heard faintly urging his men to carry on, until he lost consciousness. Only because of this officer's driving spirit and heroic action was the platoon emboldened to make its brave but hopeless last ditch stand.
Gordon, Nathan Green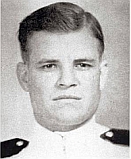 Rank and organization: Lieutenant, U.S. Navy, commander of Catalina patrol plane.
Place and date: Bismarck Sea, 15 February 1944.
Entered service: Fayetteville, AR.
Born: 4 September 1916, Morrilton, Ark.
Citation: For extraordinary heroism above and beyond the call of duty as commander of a Catalina patrol plane in rescuing personnel of the U.S. Army 5th Air Force shot down in combat over Kavieng Harbor in the Bismarck Sea, 15 February 1944. On air alert in the vicinity of Vitu Islands, Lt. (then Lt. j.g.) Gordon unhesitatingly responded to a report of the crash and flew boldly into the harbor, defying close-range fire from enemy shore guns to make 3 separate landings in full view of the Japanese and pick up 9 men, several of them injured. With his cumbersome flying boat dangerously overloaded, he made a brilliant takeoff despite heavy swells and almost total absence of wind and set a course for base, only to receive the report of another group stranded in a rubber life raft 600 yards from the enemy shore. Promptly turning back, he again risked his life to set his plane down under direct fire of the heaviest defenses of Kavieng and take aboard 6 more survivors, coolly making his fourth dexterous takeoff with 15 rescued officers and men. By his exceptional daring, personal valor, and incomparable airmanship under most perilous conditions, Lt. Gordon prevented certain death or capture of our airmen by the Japanese.
Britt, Maurice L.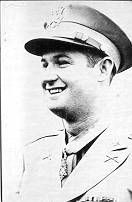 Rank and organization: Captain (then Lieutenant), U.S. Army, 3d Infantry Division.
Place and date: North of Mignano, Italy, 10 November 1943.
Entered service: Lonoke, AR.
Born: 29 June 1919, Carlisle, Ark.
G.O. No.: 23, 24 March 1944.
Citation: For conspicuous gallantry and intrepidity at the risk of his life above and beyond the call of duty. Disdaining enemy hand grenades and close-range machine pistol, machinegun, and rifle, Lt. Britt inspired and led a handful of his men in repelling a bitter counterattack by approximately 100 Germans against his company positions north of Mignano, Italy, the morning of 10 November 1943. During the intense fire fight, Lt. Britt's canteen and field glasses were shattered; a bullet pierced his side; his chest, face, and hands were covered with grenade wounds. Despite his wounds, for which he refused to accept medical attention until ordered to do so by his battalion commander following the battle, he personally killed 5 and wounded an unknown number of Germans, wiped out one enemy machinegun crew, fired 5 clips of carbine and an undetermined amount of Ml rifle ammunition, and threw 32 fragmentation grenades. His bold, aggressive actions, utterly disregarding superior enemy numbers, resulted in capture of 4 Germans, 2 of them wounded, and enabled several captured Americans to escape. Lt. Britt's undaunted courage and prowess in arms were largely responsible for repulsing a German counterattack which, if successful, would have isolated his battalion and destroyed his company.
*Lloyd, Edgar H.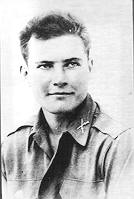 Rank and organization: First Lieutenant, U.S. Army, Company E, 319th Infantry, 80th Infantry Division.
Place and date: Near Pompey, France, 14 September 1944.
Entered service: Blytheville, AR.
Birth: Blytheville, Ark.
G.O. No.: 25, 7 April 1945.
Citation: For conspicuous gallantry and intrepidity at the risk of his life above and beyond the call of duty. On 14 September 1944, Company E, 319th Infantry, with which 1st Lt. Lloyd was serving as a rifle platoon leader, was assigned the mission of expelling an estimated enemy force of 200 men from a heavily fortified position near Pompey, France. As the attack progressed, 1st Lt. Lloyd's platoon advanced to within 50 yards of the enemy position where they were caught in a withering machinegun and rifle crossfire which inflicted heavy casualties and momentarily disorganized the platoon. With complete disregard for his own safety, 1st Lt. Lloyd leaped to his feet and led his men on a run into the raking fire, shouting encouragement to them. He jumped into the first enemy machinegun position, knocked out the gunner with his fist, dropped a grenade, and jumped out before it exploded. Still shouting encouragement he went from 1 machinegun nest to another, pinning the enemy down with submachine gun fire until he was within throwing distance, and then destroyed them with hand grenades. He personally destroyed 5 machineguns and many of the enemy and by his daring leadership and conspicuous bravery inspired his men to overrun the enemy positions and accomplish the objective in the face of seemingly insurmountable odds. His audacious determination and courageous devotion to duty exemplify the highest traditions of the military forces of the United States.
*Terry, Seymour W.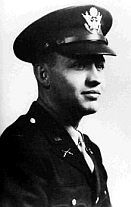 Rank and organization: Captain, U.S. Army, Company B, 382d Infantry, 96th Infantry Division.
Place and date: Zebra Hill, Okinawa, Ryukyu Islands, 11 May 1945
Entered service: Little Rock, AR.
Birth: Little Rock, Ark.
G.O. No.: 23, 6 March 1946.
Citation: 1st Lt. Terry was leading an attack against heavily defended Zebra Hill when devastating fire from 5 pillboxes halted the advance. He braved the hail of bullets to secure satchel charges and white phosphorus grenades, and then ran 30 yards directly at the enemy with an ignited charge to the first stronghold, demolished it, and moved on to the other pillboxes, bombarding them with his grenades and calmly cutting down their defenders with rifle fire as they attempted to escape. When he had finished this job by sealing the 4 pillboxes with explosives, he had killed 20 Japanese and destroyed 3 machineguns. The advance was again held up by an intense grenade barrage which inflicted several casualties. Locating the source of enemy fire in trenches on the reverse slope of the hill, 1st Lt. Terry, burdened by 6 satchel charges launched a l-man assault. He wrecked the enemy's defenses by throwing explosives into their positions and he accounted for 10 of the 20 hostile troops killed when his men overran the area. Pressing forward again toward a nearby ridge, his 2 assault platoons were stopped by slashing machinegun and mortar fire. He fearlessly ran across 100 yards of fire-swept terrain to join the support platoon and urge it on in a flanking maneuver. This thrust, too, was halted by stubborn resistance. 1st Lt. Terry began another 1 -man drive, hurling grenades upon the strongly entrenched defenders until they fled in confusion, leaving 5 dead behind them. Inspired by this bold action, the support platoon charged the retreating enemy and annihilated them. Soon afterward, while organizing his company to repulse a possible counterattack, the gallant company commander was mortally wounded by the burst of an enemy mortar shell. By his indomitable fighting spirit, brilliant leadership, and unwavering courage in the face of tremendous odds, 1st Lt. Terry made possible the accomplishment of his unit's mission and set an example of heroism in keeping with the highest traditions of the military service.